Allergies affect more than 500 million people in the United States. Designing a successful allergy treatment plan for our patients starts with conducting a thorough evaluation and testing for allergic reactions to common allergens. At The ENT & Allergy Centers of Texas, we offer skin testing and intradermal testing to accurately diagnose your symptoms. Once we identify your allergies, we can administer the most appropriate and effective treatment.
Skin Prick Test: Skin testing serves as an effective initial step in the diagnostic process. While blood testing and patient history only offer limited information, skin testing provides more detailed and accurate results. At The ENT & Allergy Centers of Texas, we conduct skin prick testing on healthy individuals ages 5 and older. This test identifies the specific allergen(s) that trigger an actual reaction. During the procedure, a small amount of the allergen is pricked onto the skin and left for approximately 15-20 minutes while our team observes for any signs of a reaction, such as redness or swelling.
Our comprehensive panel of allergens is based on the commonly inhaled allergens in the area, including trees, molds, grasses, weeds, and pet dander. Our specialty-trained nurses offer counseling to each patient during the testing process, and the results are available in real-time. This allows the patient to understand:
Their specific allergies
Medical treatment options
Environmental avoidance of allergies
Immunotherapy treatment options including sublingual immunotherapy (allergy drops) or injection immunotherapy (allergy shots)
Patients, including children, typically tolerate allergy testing well. At our facilities, our team conducts prick testing on the forearm and provides quantitative testing on the upper arm for older children and adults.
Intradermal Allergy Testing: Intradermal testing is a procedure similar to the skin prick test, but with a slight variation. Instead of pricking the skin, your physician injects the allergen under the skin to create a small bubble. This test is akin to the tuberculosis test and enhances skin sensitivity, allowing your medical team to identify any allergic reactions.
As this test may cause some discomfort, it is typically only performed on adults, or on children and young adults who can tolerate it.
What Are The Treatment Options for Allergies?
After our team has accurately diagnosed your allergies through testing, we can then discuss treatment options. We provide two options, including allergy drops and allergy shots.
Allergy Shots: One form of immunotherapy is injections, also known as subcutaneous immunotherapy (SCIT), which remain the most effective treatment option available. This type of immunotherapy involves gradually increasing doses of the allergen administered slowly over time.
Allergy Drops: Allergy drops, also known as sublingual immunotherapy or SLIT, provide several advantages over allergy shots. First, they do not involve the use of needles. Instead, drops of the allergen are placed under the tongue, providing the same effect as injection immunotherapy minus the needles.
What can I expect at an allergy testing appointment?
During your initial visit with an allergy specialist, you can expect a detailed discussion about various factors that could contribute to your allergic responses. These factors may include your family history, medical history, lifestyle, and symptoms. This conversation between you and our clinical team serves as a starting point and can lead to significant improvements in your quality of life throughout all seasons of the year.
When discussing your symptoms, it's important to be prepared to share information such as the frequency of their occurrence, what triggers them, and the severity of your reaction to potential allergens like pollen or pets. After discussing your symptoms, your doctor may recommend allergy testing based on your specific situation.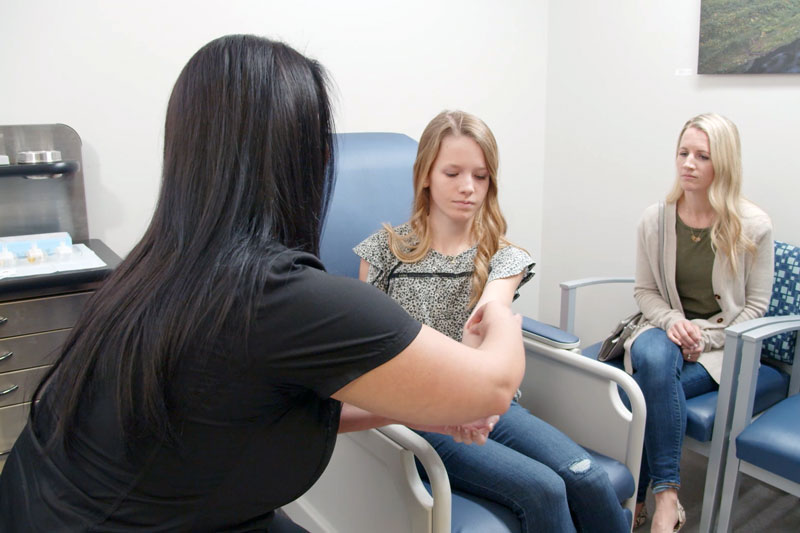 How Often Should You Have Allergy Skin Testing Done?
When you have a follow-up appointment with your doctor to discuss the results of your allergy skin test and treatment plan, you can expect to have a conversation about the frequency of future skin tests. While these tests are typically used to identify your allergens, they can also serve as a way to measure the effectiveness of your treatment plan. Your doctor may recommend scheduling subsequent skin tests every two years, or only when you experience allergy symptoms.
After you have identified your allergies and established a management plan, you and your care team will have periodic meetings to ensure that you maintain consistent positive results through your ongoing treatment.
To learn more please call our office or schedule an appointment online to visit one of our eight convenient North Texas locations.